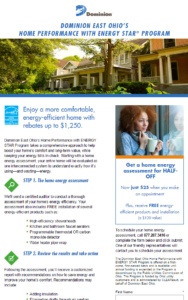 If you live in the Cleveland area chances are good that you heat with natural gas and are a Dominion East Ohio customer – the two things you need to qualify for up to $1,250 in rebates from Dominion for your home insulation project by Myers Insulating Services.
Hurry – First Come First Serve
The program is offered on a first-come, first-served basis and is available until their funding is spent or the Program is discontinued by the Public Utilities Commission of Ohio. So get your energy audit done today to learn where you're loosing heat and air conditioned air and get up to $1,250 in rebates for your energy efficient home improvements.
Step 1. Order the home energy assessment from Dominion for $25. Call 877-287-3416 or fill out a form online. When you call the number, if you mention Myers Insulating Services by name, they have been known to wave the $25 fee.  Remember, you have to be a Dominion customer, so have your account information at the ready.
Step 2. Choose the recommendations to take action on. Your assessment includes a report with the auditor's recommendations that can include anything from adding attic insulation, crawl space insulation, sidewall insulation or installing a new furnace to replacement windows and doors.
Step 3. Contact Myers Insulating Services, an approved contractor through the Home Performance with Energy Star Program.  Show us your audit report and we'll help you calculate how much of a rebate you'll receive after your insulation project with Myers Insulating Services.
Step 4. Myers Insulating Services facilitates your rebate. At Myers Insulating Services we don't want your rebate to go unclaimed, so we actually process the rebate for you. You'll pay Myers Insulating Services for the insulation project and receive a check from Dominion within 4 – 6 weeks for your rebate amount.  This saves you the hassle of sending the rebate paperwork in on your own!
Energy Efficiency Rebate Qualifications
Must complete a comprehensive home energy assessment by one of CLEAResult's energy auditors
Improvements must be recommended as a result of the home energy assessment.
You must use a participating contractor, like Myers Insulating Services, who must install Contractor-Installed measures.
Improvements must meet the Program's minimum requirements for the measure.
The total combined rebate amount must be at least $75, but no more than the $1,250 maximum.
Rebate Application must be received by CLEAResult within one (1) year from the date of the home energy assessment and no greater than ninety (90) days from the date of completion of work.
Energy Efficiency Program for Up to $1,250 in Insulation Rebates