About Jim Myers: Owner, Operator & Insulation Contractor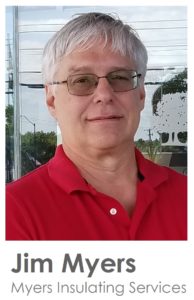 Jim's history is pretty unique in the insulation industry.  Unlike many insulation contractors that come out of the home building, home inspection, roofing or siding trades, Myers got his start in the insulation industry immediately after obtaining his Ceramic Engineering Degree from New York's Alfred University and has been in the fiberglass insulation industry ever since - for over 35 years!  Originally Jim was enticed by the manufacturing aspect of fiberglass insulation and spent over 15 years in the manufacturing sector (you won't find another insulation contractor that knows the ins and outs of the insulation manufacturing process like Jim).
Insulation Distributor: Working with Insulation Contractors
After developing an aversion for the "corporate" way and seeking a career with more personal, and personable, interaction, Myers found great satisfaction in the distributor side of the industry - putting the vast knowledge he gained over his years with the insulation manufacturers to work help, educate and provide product to the insulation contractors.  He enjoyed working with the insulation contractors, going on site, seeing how they were applying his products, providing tips for a better installation and having great rapport with his customers - something very important to Jim.  However, after seeing many of his clients get bought-out by the bigger companies the industry shifted heavily to eliminate many of the "little guys" - the insulation contractors Jim had enjoyed working with over the years.
Insulation Contractor for Over 15 Years
After years in the insulation manufacturing and insulation distribution sides of the fiberglass insulation industry Jim decided to apply his passion for customer satisfaction and knowledge of fiberglass insulation into his own business where he manages a four man crew and takes pride in ensuring each insulation job ends with the ultimate customer satisfaction.  With his vast knowledge of the fiberglass insulation industry, his affinity for helping people and his unbelievable personal moral compass, Jim Myers is why Cleveland area home owners choose Myers Insulating Services for their insulation jobs.