THERMAL PERFORMANCE: FIBER GLASS v. CELLULOSE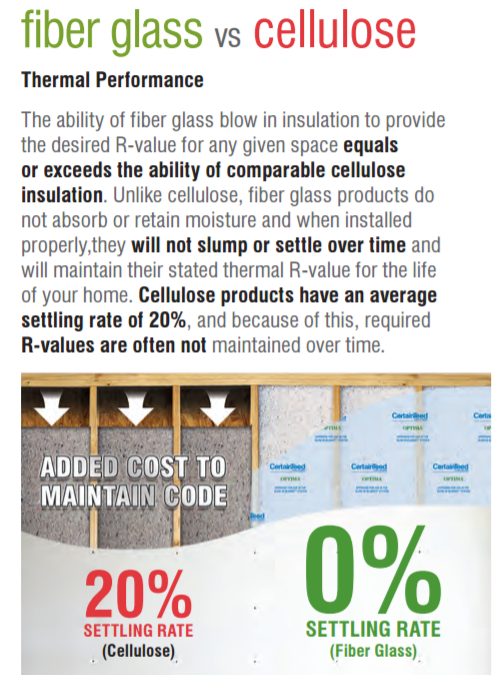 Fiber glass insulation – loose fill fiber glass experiences less than 2% settling and delivers the R-value stated on its package for the life of the home.
Cellulose insulation – can experience up to 25% settling, losing 15 to 25 percent of its R-value. Installers must apply at the "initial installed thickness" listed on the bag to get the desired R-value.
Insulation R-value Per Inch:
Fiber glass insulation – in 2X4 wall cavities both batts and loose fill can provide up to R-4.3 per inch, delivering a full R-15. In cathedral ceilings high density batts (R-30C and R-38C) provide up to R3.7 per inch.
Cellulose insulation – in wall cavities and cathedral ceilings, provides up to R3.7 per inch (approximately R-12.8 for a 2X4 wall).
NOTE: In flat ceilings with an attic above, height is not a restricting factor and both fiber glass and cellulose can insulate to beyond R-60. The weight of the insulation should be considered when using cellulose.
FIRE RESISTANCE: FIBER GLASS v. CELLULOSE
Fiber glass insulation – all fiberglass insulation used by Myers Insulating Services is naturally non-combustible and is classified as such per ASTM E 136.
Cellulose insulation – is made from paper and other wood-based, combustible materials. It must be treated with fire-retardant chemicals to be acceptable for use in any type of building construction - it's that chemical treatment that could be concerning for health factors.
NOTE: Products faced with kraft are not resistant to fire because the facing is combustible. Only the fiber glass is non-combustible.
ACOUSTICAL PERFORMANCE: FIBER GLASS v. CELLULOSE
Results from independent testing laboratories indicate there is no significant difference between walls insulated with either fiber glass or cellulose.
CELLULOSE INSULATION MOISTURE PROBLEMS
Fiber glass insulation is nonabsorbent and is installed dry. In the event it is exposed to water after installation its nonabsorbent qualities will make it dry faster.
Cellulose insulation is naturally absorbent, is often applied with water, and when exposed to moisture after installation retains water and is hard to dry.
NOTE: the presences of water - in liquid or vapor form – in building cavities can cause loss of insulation R-value, corrosion of metal fasteners, wiring, piping and metal framing members, and degradation of wood framing members and gypsum wallboard.